There is Nothing More Uniquely Irish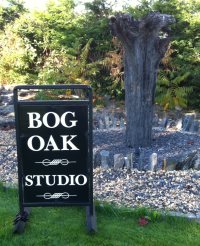 Formed over four to seven thousand years, bog oak has been concealed and preserved by Ireland's bogs since before the Pyramids of Egypt.
Every human is an artist. The dream of your life is to make beautiful art.

- Ruiz
Larry and Lorcan Harney work from their studio in Co. Kildare, Ireland, where they spend countless hours working with this precious material to create sculptures of beauty and substance.
Every single one of their bog oak sculptures is unique and very special to them.
Larry and Lorcan do not use templates – They follow nature's lead and fashion the shapes that nature itself has formed over thousands of years.

A Bog Oak Sculpture is a very special and rare gift – Something uniquely Irish and tied to Ireland's landscape and heritage.
View Recent Sculptures